Local Winter Beauty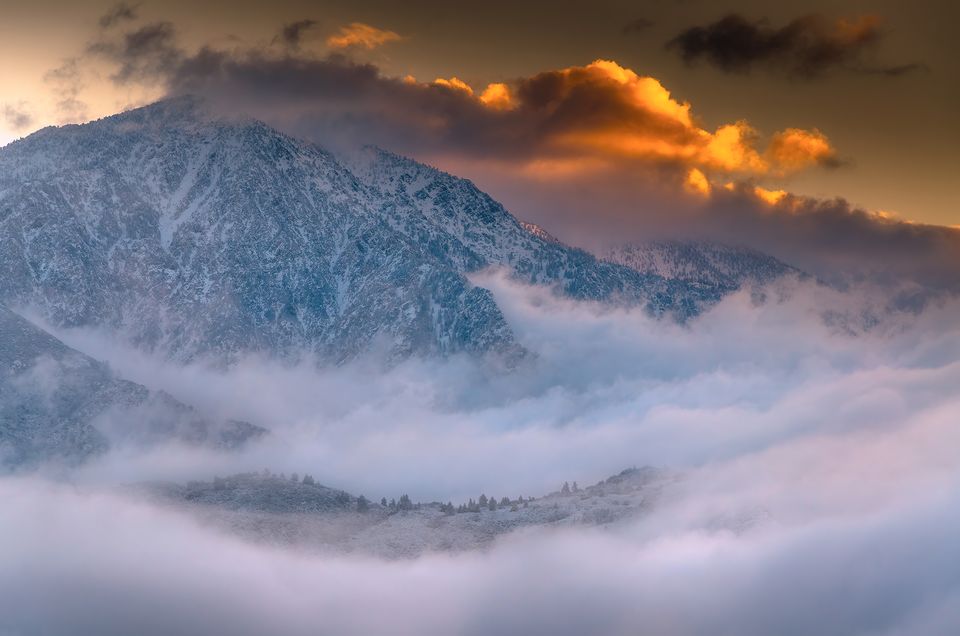 It's been a wet winter in California so far. If you haven't felt it on your body, then you can see it in the landscape around you. It transforms, quickly. The mountains get covered with snow, streams begin to flow again, and any of the surrounding foothills' turn from brown to green. At least that's what it's been like where I live.
I live where I grew up. A small town in Southern California called Yucaipa. It's where my love for nature started. We are surrounded by the San Bernardino mountain range, Yucaipa Ridge, and numerous foothills in the area. It's a beautiful place to live. But oddly enough, many people who live here aren't aware of the beauty that is around them. Growing up, most of my friends just complained that we didn't have a movie theater, and other typical activities for the 90s teenager. While I echoed a portion of their discontent, I equally knew the town had something amazing to offer. I didn't know what exactly, but I would find out.
Years ago, I took it upon myself to photograph the town in hopes that it would inspire the people of the community. Below are some of my favorite pictures around Yucaipa during winter. The reactions from people stay the same. They think I've traveled to some exotic place. It's fun when I tell them it was only a few miles from their house. Some of these photos are 10+ years old, while others were taken only a few days ago.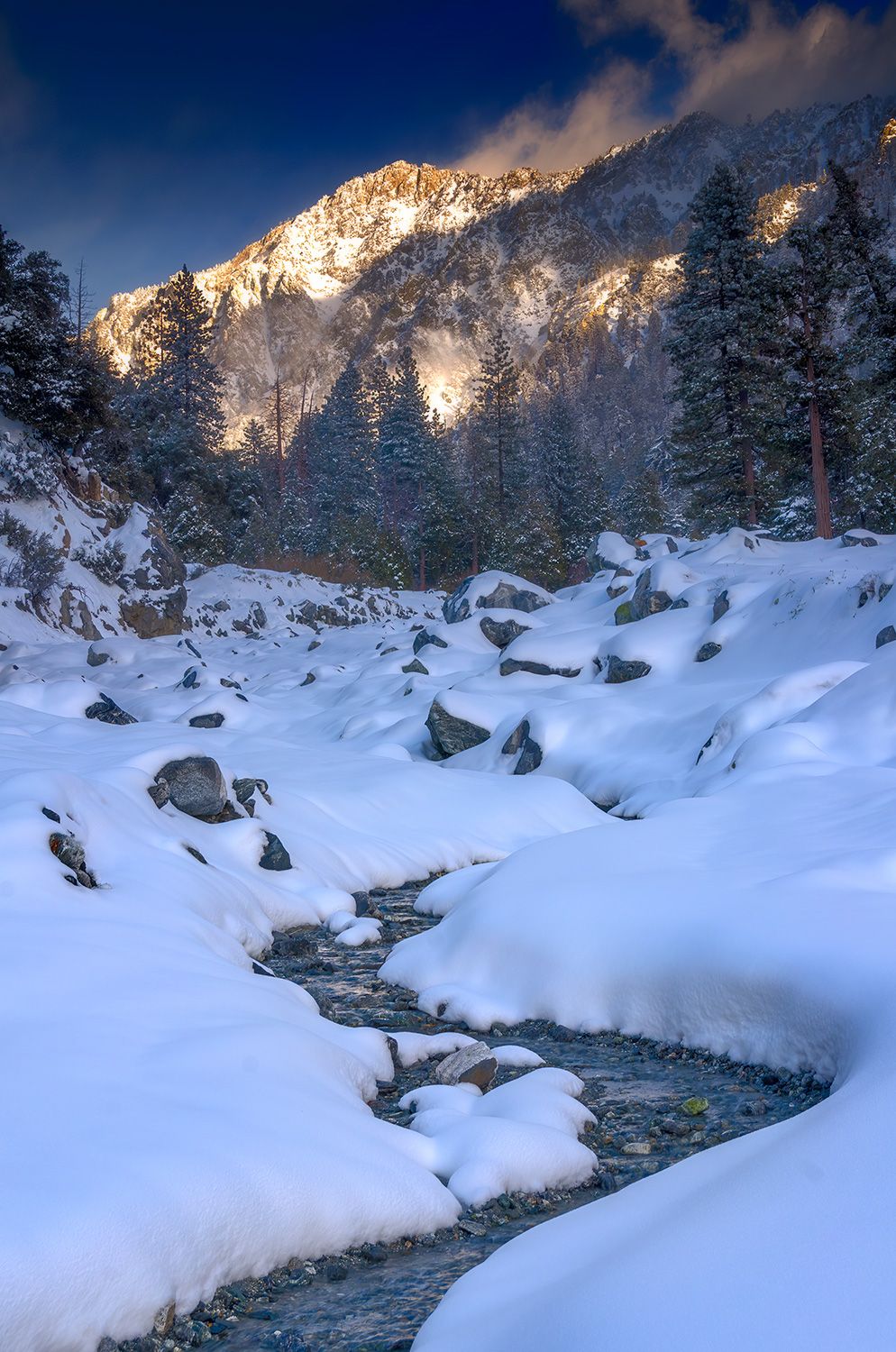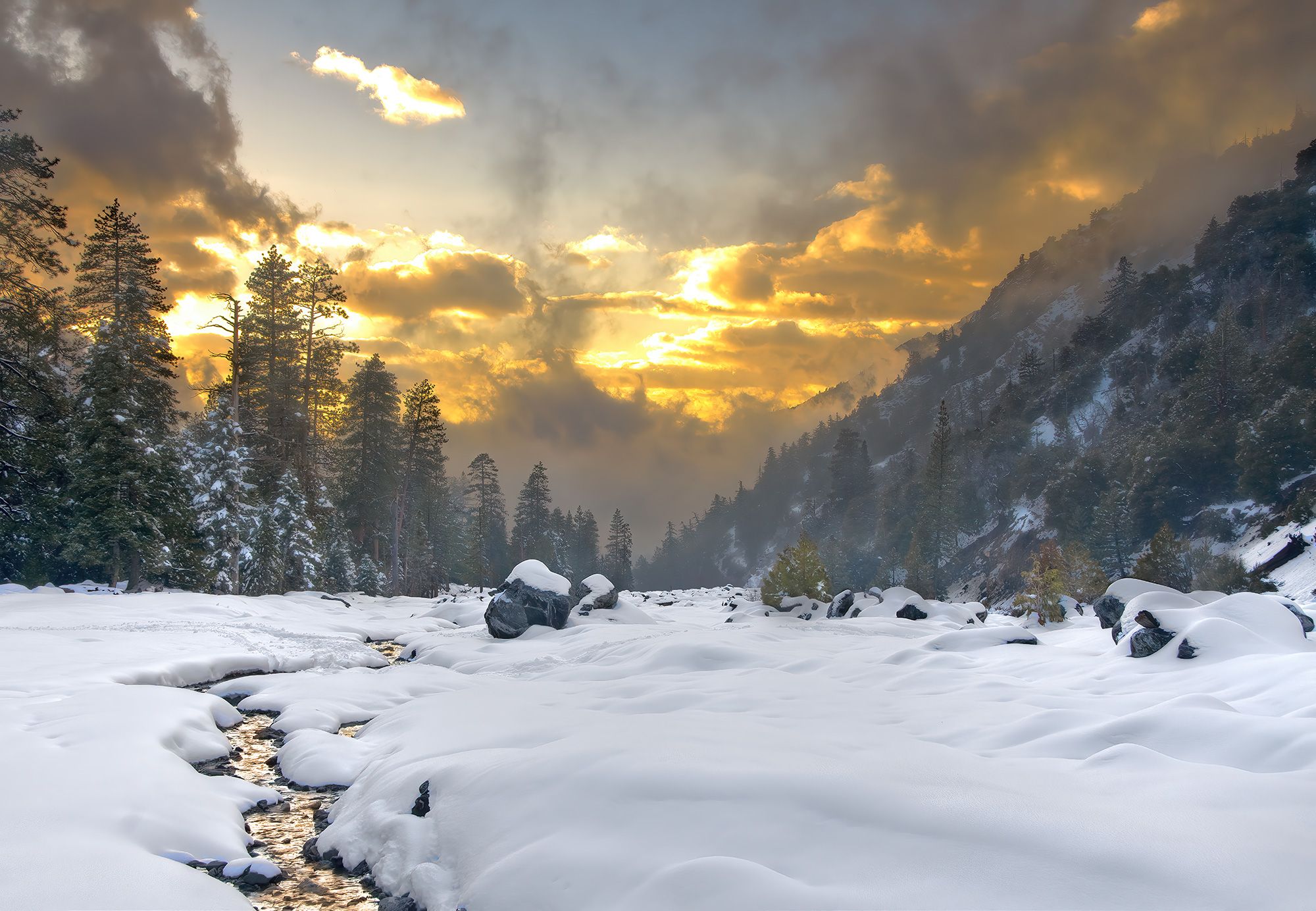 The above pictures are from 2013 after a heavy snow. As usual, I'm always the only person around. And while I enjoy the travel portion in cold temperatures, standing around waiting for light is painful. Portions of my body go numb followed by an uncomfortable tingle. I will often begin to dance just to keep myself warm--yes, still by myself, and yes, a terrible dancer. But these are the moments that I remember. The ones that came with all kinds of uncertainty or risk. I really never know how the photograph will turn out in the end, but the stories are always worth it.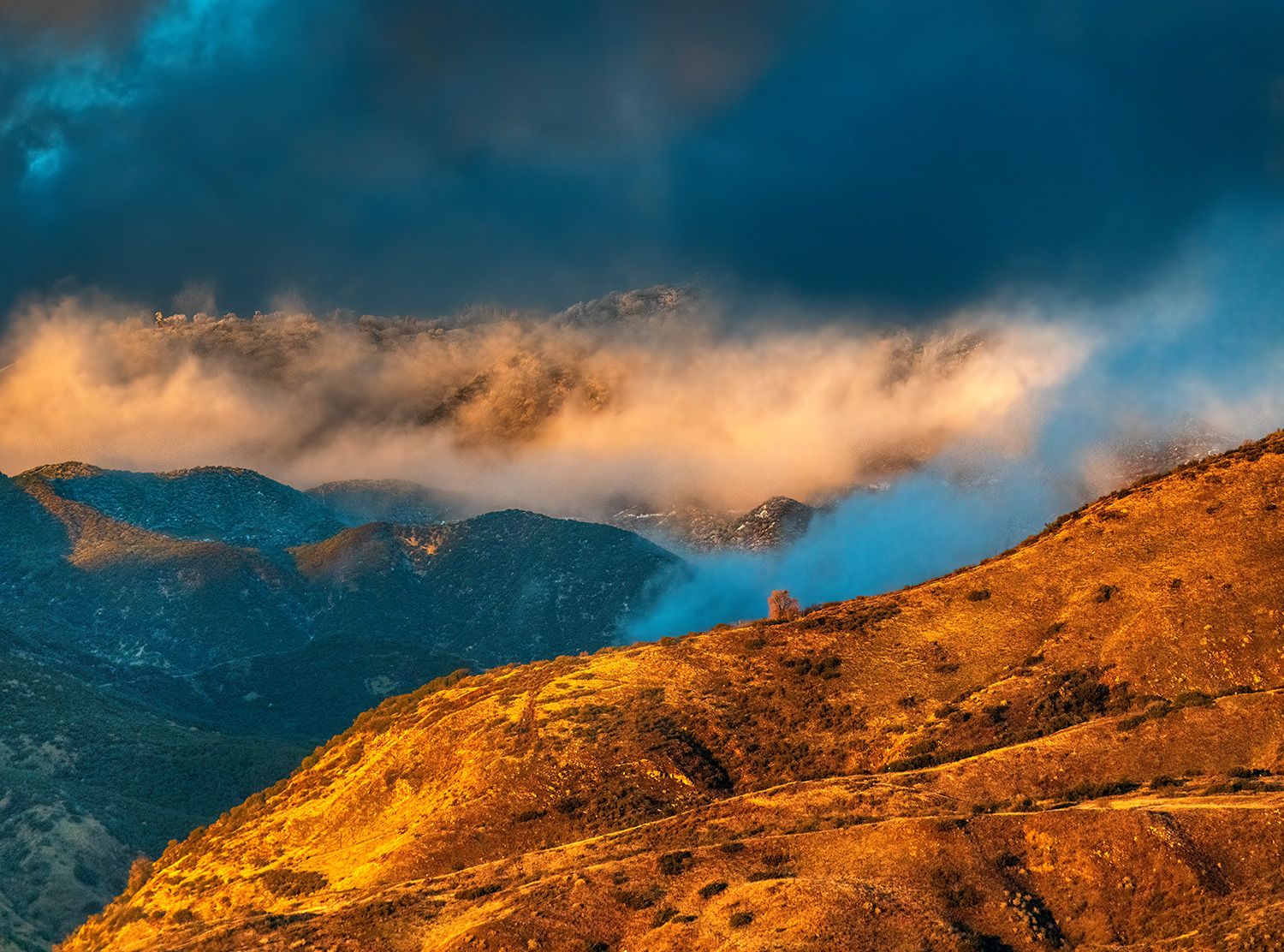 From December 2022. We've had a number of recent storms coming through. Portions of San Bernardino peak reveal itself in the clouds. Never too much. Just enough to peak our curiosity. The other thing to notice is the vibrant blue color in the left image. This color was not added in post-processing. The angle of the light juxtaposed against the dark mountains somehow created this surreal moment.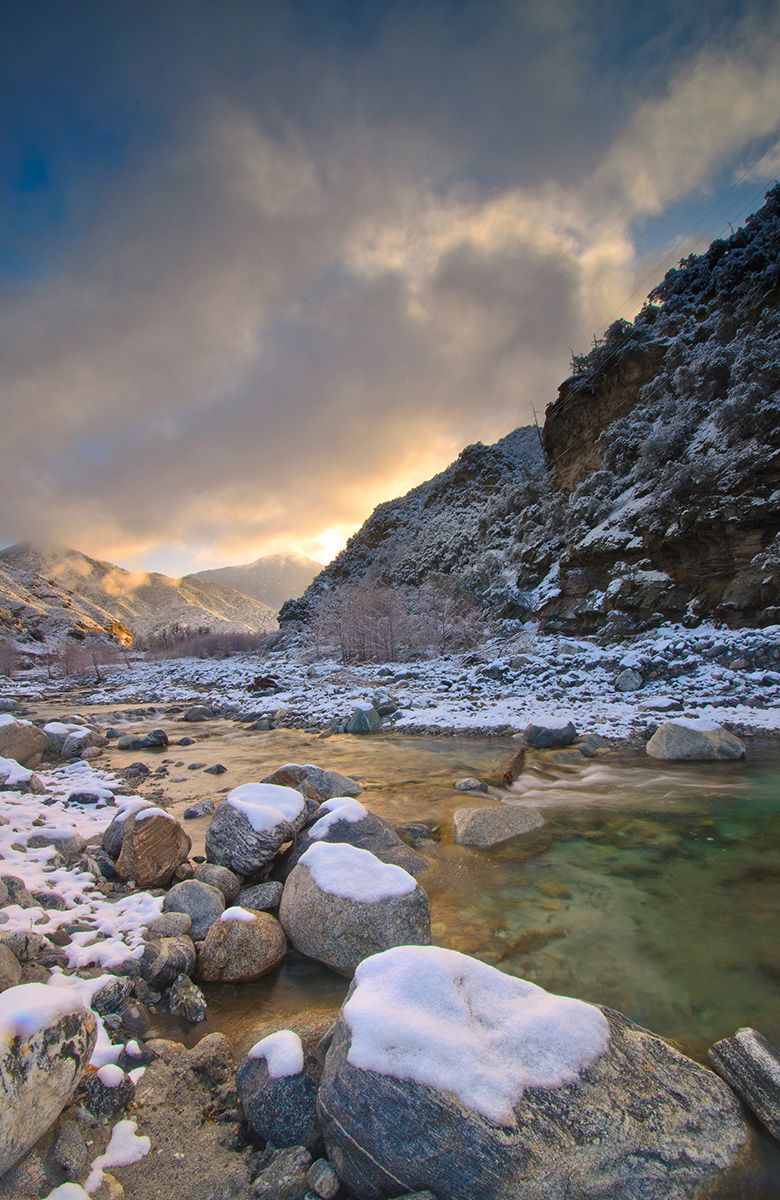 From 2014 - Mill Creek - A spot that is known for its trash and graffiti unfortunately. The snow covered the graffiti, and the golden glow in the sky reflected on to the water transforms this space for at least a moment into a scene straight outta a Hallmark movie…not that I've seen many.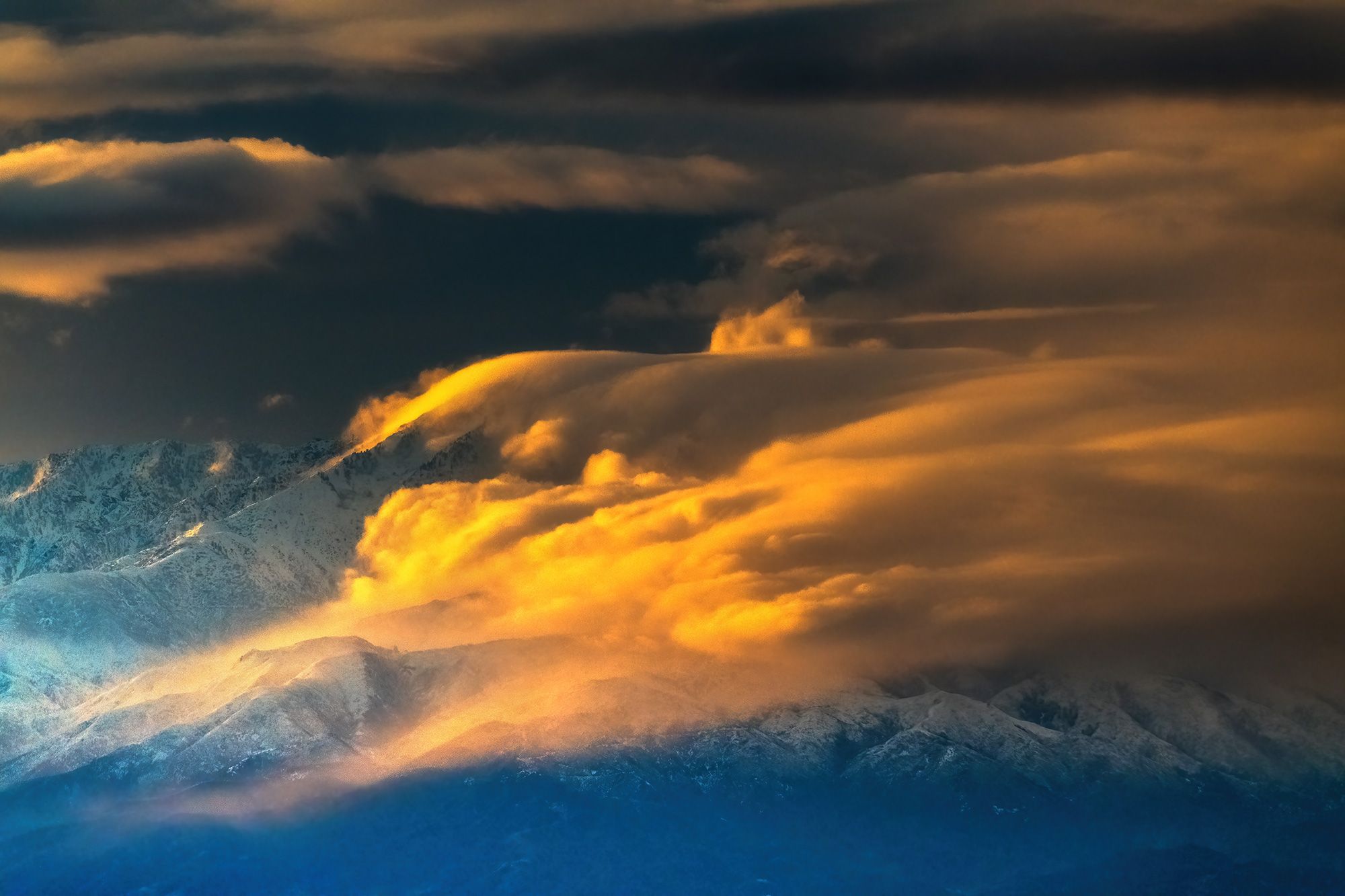 From 2019 - There was a recent storm that had passed through. It lasted about 3 days. As sunset approached, the clouds began to break up a bit and started giving a glimpse to the Baldy range in California. There were high winds in the area that began sculpting the clouds just over the mountaintops. I found an open area, and photographed the scene for about 2 hours until the sun had completely set. This image was part of the Official Selection in the 2022 International Photography Awards.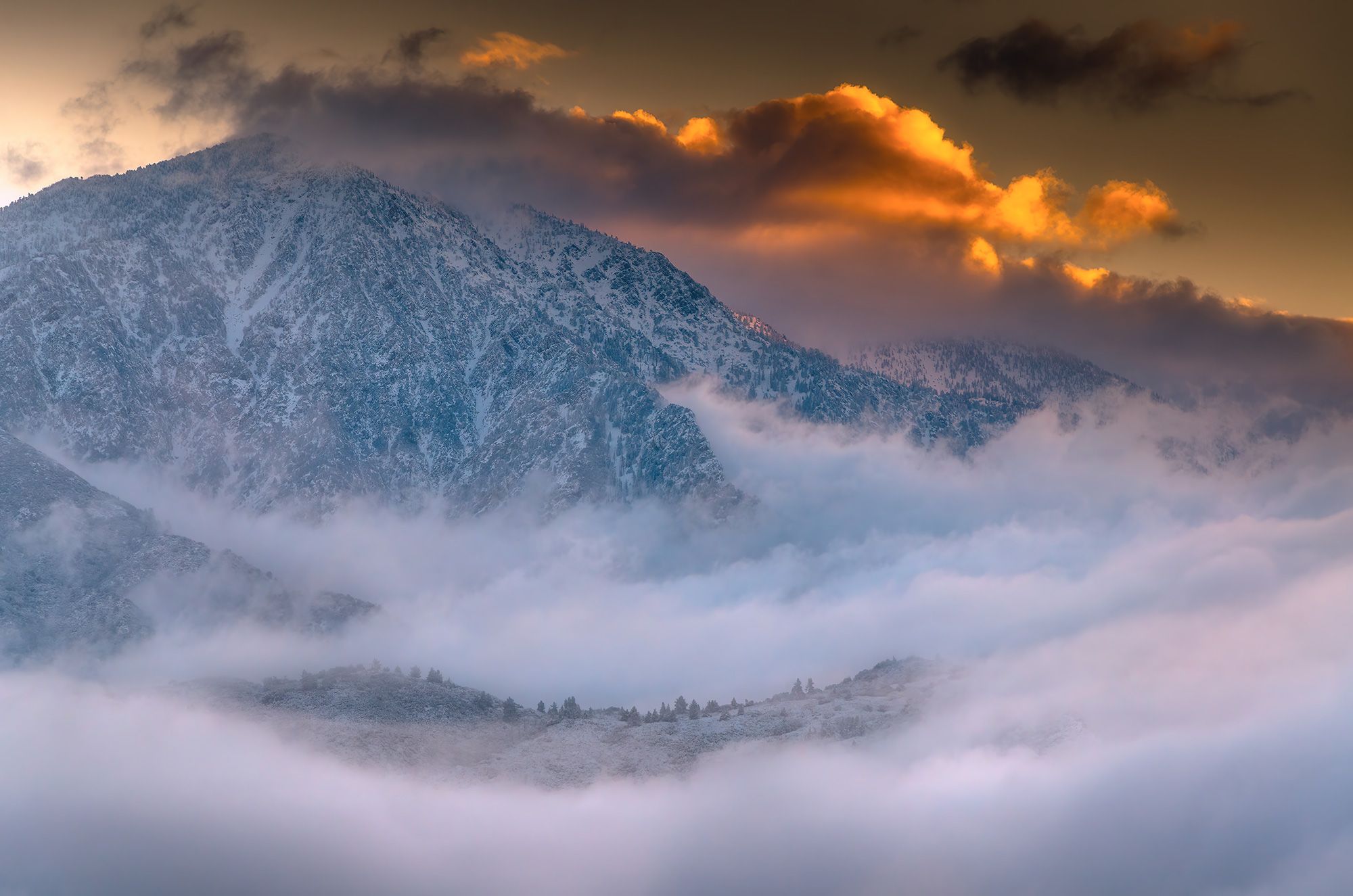 The above photograph was a shot I had always built up in my head, but never actually knowing if it would manifest itself in any kind of real way. The photography in my head went something like this: snowy conditions, fog with an opening around San Bernardino peak, and low angled morning light getting through to the peak.
This sounds very specific. And there was certainly never a guarantee that I would end up with anything close to it. But hiking in our foothills every other day for 3 years straight helped my chances. Each day I would return with wonderful moments from the morning. Some mornings I would get close, but either the fog wouldn't clear, or I would have snow, but no clouds. There was always an element missing from this puzzle of a picture I was after.
Then it happened. I woke up that Spring morning. Boots on the trail around 5:30am. Began hiking my normal loop not knowing what potential lay ahead. As I rounded the turn from a less traveled route, there was a wall of fog surrounding the San Bernardino Mountains. It hadn't made its way into Yucaipa, and seemed to be still developing as pieces of the Yucaipa Ridge would fade in and out.
I quickly realized that this could be it. This has a chance to develop into the shot I had conceived in my head for so many years. And boom! Just like that for only a few seconds it happened. San Bernardino peak came into view as a gap was created in the fog. I only got two shots before everything turned grey again. And because of my franticness during those moments, I had no idea if the photographs were even usable. I hadn't dialed in the correct settings in my camera. I literally just started shooting. I continued to wait and watch before heading down. Being late for work was not a concern today.
The peak was never revealed again that morning. It lasted only a minute. Perhaps even shorter. Somehow even in the chaos of the moment, to my surprise everything looked fine in the camera. I suppose this served as a reminder that persistence pays off. This was one of the finest moments I've ever witnessed while standing in Yucaipa. Though I never deserved a moment like this, after hundreds of attempts over the years, I got one given to me.
All this to be said, I'm not sure if my work has or will ever inspire someone in our community, but it has moved me. I never underestimated the beauty of the town, but I didn't know exactly what that beauty was. It was a mystery. And that was part of the draw for me. And to be honest, it still is. While places have revealed themselves, the combination of light, clouds, snow, rain, sun, etc. changes with the moment, and thus has continued to present itself new each time out.
Josh Endres is an award-winning photographer, author and mountaineer. He loves giving to people a dose of inspiration that nature gave to him. You can view his
books
,
prints
or sign up for his
monthly newsletter
.